Wavin U.S. and Canada
Sustainability Drives Innovation
Wavin is a leading supplier and manufacturer of smart water management solutions, water reuse systems, plastic pipes and fittings for plumbing, waste and sewer systems, roof drainage, stormwater management, and underfloor heating.

Backed by more than 60 years of product development experience, Wavin (pronounced "wah-vin") advances life around the world by building healthy, sustainable environments for people everywhere.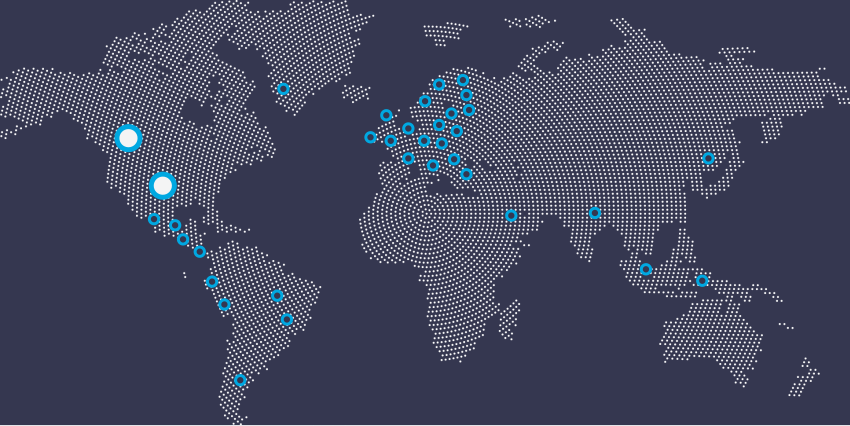 Now Operating in the U.S. and Canada
Wavin has 12,000+ employees across 66 production sites worldwide, serving over 80 countries through a global sales and distribution network.
100%
Recyclable Material
Our Stormwater Management System is made from 100% recyclable material.
Lowest
Lead Content
Our PP-RCT pipes and fittings contain the
lowest lead content – well below the US standard.
100%
Hydroelectric Powered
All of the electricity generation at our Canadian plants, comes from hydroelectric resources.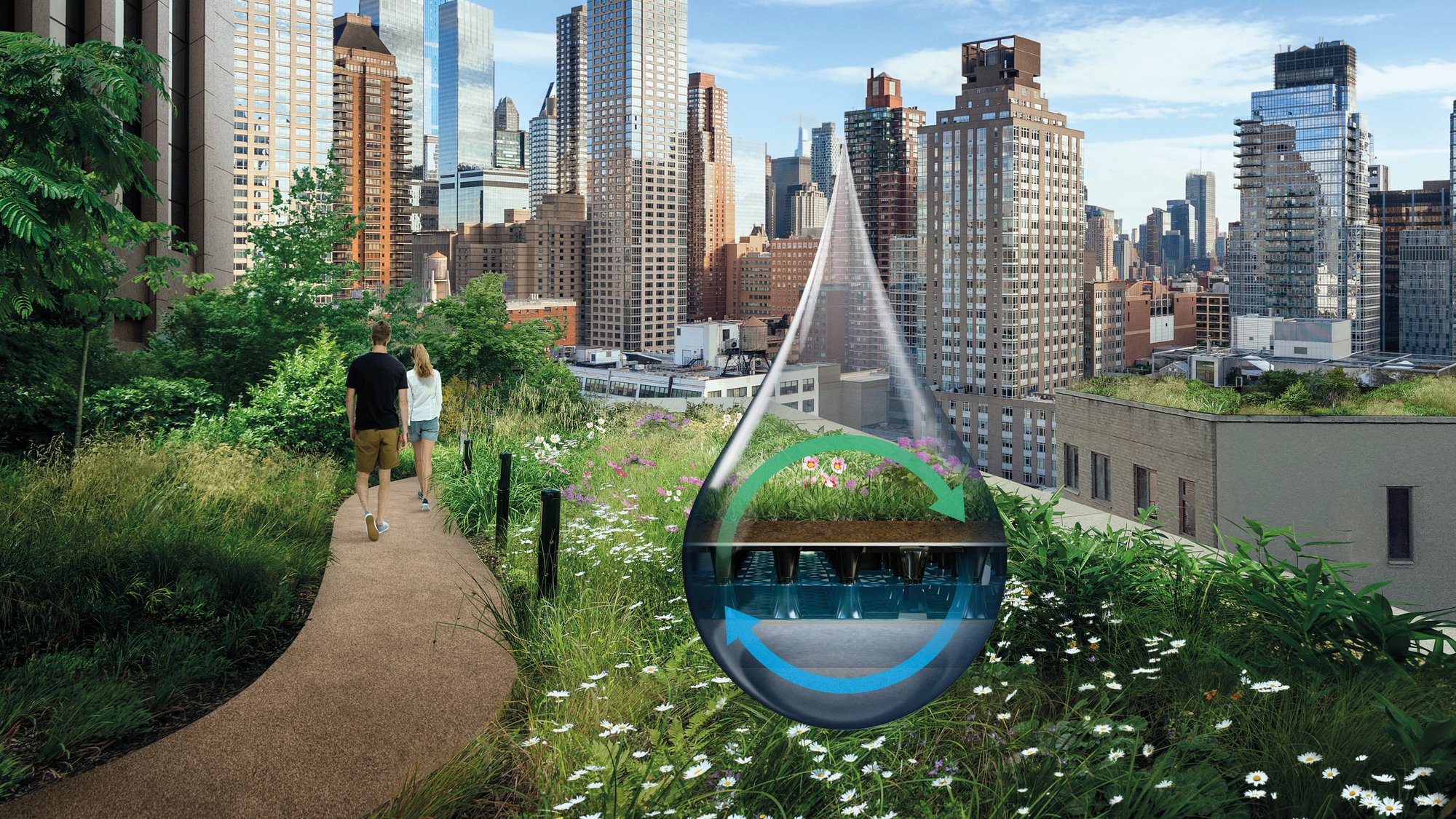 A Smartwater Reuse System Helps Trees Grow in Brooklyn While Saving Water
PolderRoof System
Modern cities, including Brooklyn, face the dual challenges of severe rainstorms and drought caused by climate change. As of May 2023, a significant portion of the continental United States is experiencing moderate to extreme drought, while frequent and severe flood events are impacting cities along the Northeast, Gulf Coast, and West Coast.
60+ year history of innovation in plastic pipe systems and solutions
In U.S. and Canada, our innovations include digital and connected stormwater and wastewater management systems, safe drinking water solutions, blue-green roofs, and building modeling software to make engineering specifications easier.

Pipes & Fittings
Lighter, stronger, better pipes. We solve a wide spectrum of building & infrastructure challenges – from the sustainable management of drinking water, rainwater, and indoor heating & cooling to waste water management and sewer infrastructure.
Stormwater Management Solutions
We continuously develop innovative solutions for safe and sustainable water usage that support vulnerable communities and help our customers meet the challenges of climate change.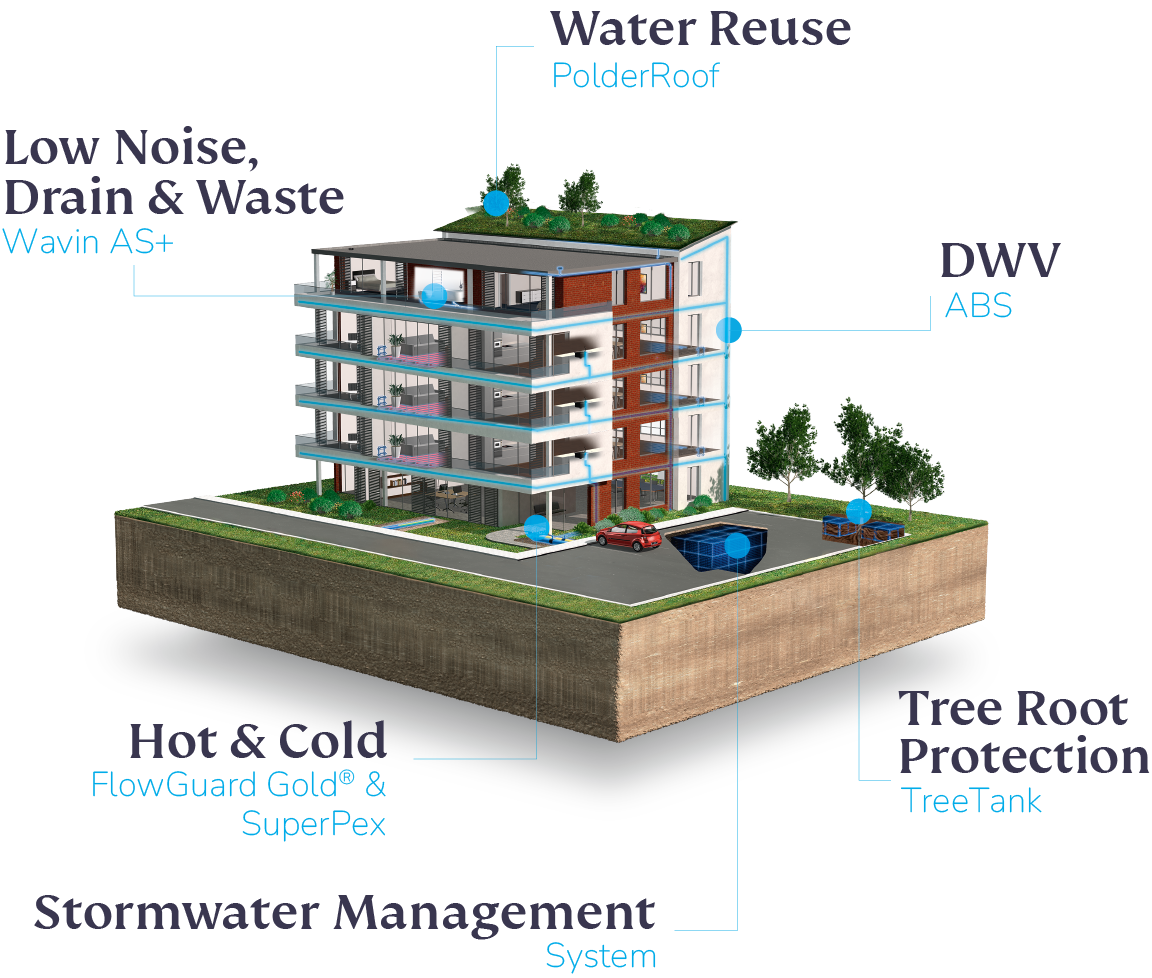 Making the Sustainable, Attainable since 1955
Safe and Efficient
Future generations face a 40% shortfall between water supply and demand. Alongside other experts, Wavin is working to deliver safe and clean water security through enhanced rainwater reuse, the digitalization of water management and more secure and durable piping.
Sanitation and Hygiene
Outdated sewer systems are overwhelmed by a triple whammy of urbanization, population growth and climate change. We are working towards a healthier future with long-lasting sanitation solutions that deliver greater
capacity
, fewer leaks, less clogging and better monitoring.
Climate Resilient Cities
Smarter systems are needed to meet the five big challenges our cities face: floods, droughts, heat stress, ground water depletion and surface-water pollution. From roof to river, we are helping with connected water capture, attenuation, cleaning, reuse, and transportation solutions to make cities climate resilient.
Building Performance
Constrained by time, cost, and product sourcing challenges, many of today's buildings
fail to
deliver on their expected performance. Through improved digital modelling, we can help our partners predict time and resource needs throughout the building process and
provide
intelligent solutions for better urban living.