Wavin PP-RCT with Basalt Fiber
The next generation of polypropylene pipe
Wavin PP-RCT with Basalt Fiber is the next generation of polypropylene pipe that is redefining hot and cold water pressure piping distribution systems. The unique 3-layer pipe has a middle layer containing basalt fibers, derived from a volcanic material that limits linear thermal expansion changes due to varying temperatures. This ensures a better performance, lightweight pipe with high resistance to corrosion that is environmentally friendly compared to both metal pipes and Glass Fiber filled polymer alternatives.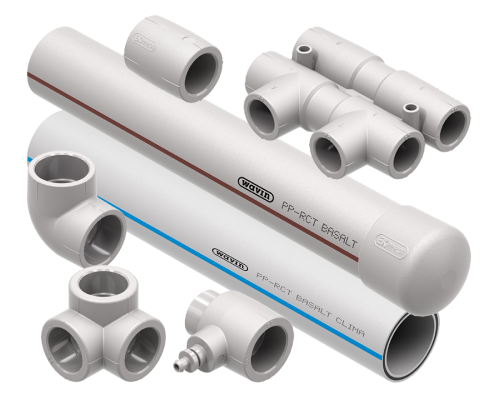 Portable Water
Hot and cold potable water for plumbing distribution – residential and commercial
Condensed Water
Chilled water and condensed water for cooling towers, data centers, and supercomputers,
Reclaimed Water
Reclaimed water collection and distribution.
Hydronic Distribution
Chilled water and condensed water for cooling towers, data centers, and supercomputers,
Geothermal
Geothermal heating and cooling systems.
Industrial
Industrial and process piping for applications such as chemical processes
Ship Building
Industrial and process piping for applications such as chemical processes
Irrigation
Sustainable solutions for blooming landscapes
Choice of Pipe Material
Steel, copper or stainless steel are history.
Metal was undoubtedly the most widespread material in the field of water distribution in the past. Galvanized steel and copper were most commonly used. Galvanized steel is very rarely used for installations today, as the disadvantages are considerable laborious assembly, complex connection by means of threads, relatively large pressure losses in the distribution system, and especially the deposition of impurities in the pipeline, which negatively affects drinking water quality. However, due to its low price and good fire protection properties, pipes made of this material are relatively widely used for utility water and fire water mains.
Copper pipes have their challenges when it comes to distributing drinking water. Like steel pipes, they are prone to deposits. This is one of the reasons why copper is mainly used for heating distribution. Compared to steel, it offers easier assembly and lower pressure losses. On the other hand, it is quite expensive.
Undoubtedly, the highest quality metal systems are stainless steel pipes. They meet all the requirements for maintaining the required quality of drinking water, but due to the high purchase price, they are very rarely used for internal water distribution.
Plastic is popular. And rightly so.
In the case of indoor plumbing, plastic replaces metal. There are several reasons: plastic pipes have a lower weight, can be easily and quickly installed, are durable, have a long service life, no dirt settles in them, have no negative effect on water quality and meet the strictest hygiene standards. They are corrosion resistant so maintaining high flow capacity and low-pressure loss for the full lifetime of the installation.
As in the case of metal, there is a relatively large selection of variants in plastic. One of the most commonly used polyfusion welded system made of polypropylene (PP-R, PP-RCT), there are single-layer but also multi-layer pipes, which bring even greater pressure resistance at higher temperatures, and thus safety and durability. A good example of such a pipe is Wavin PP-RCT Basalt, which is reinforced with basalt fiber.
In the last few years, the PP-RCT material - a new-generation polypropylene, which gives the pipe exceptional strength and durability, has also begun to gain ground in the field of plastic distribution. Due to its properties, it is possible to use pipes with a thinner wall thickness than PP-R pipes for the same applications. For example, PP-RCT pipes, offer 37% higher flow rate compared to the previous generation of pipes, which allows the use of smaller pipes and thus significantly save not only costs but also the environment.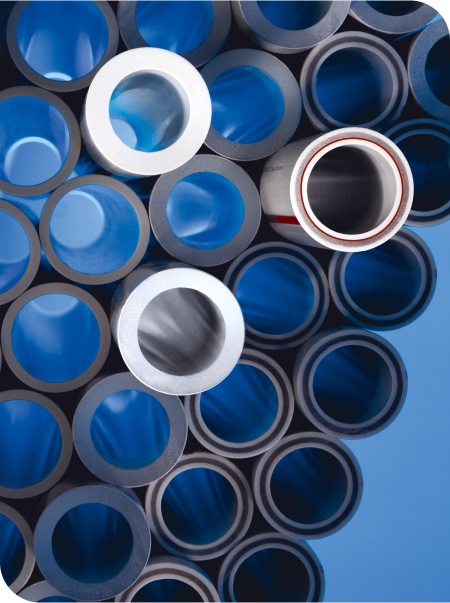 Making the Sustainable, Attainable
Sustainable thinking is good. Sustainable action is better. Better for the communities that we live in. Better for the planet that we share.
As a market leading contributor to the built environment, our sights are firmly set on leading our industry in sustainability by 2025. We're backing this ambition with real investment, real action, real outcomes and real leadership. Ultimately, our goal is to achieve Net Zero Carbon emissions by 2050.
Working with our customers, users and suppliers, we'll design carbon from every product and process that we're responsible for. Our focus throughout will be to build healthier, more sustainable environments for all.
Our sustainability journey is well and truly underway at Wavin. Let's work together to help build a better future for generations to come.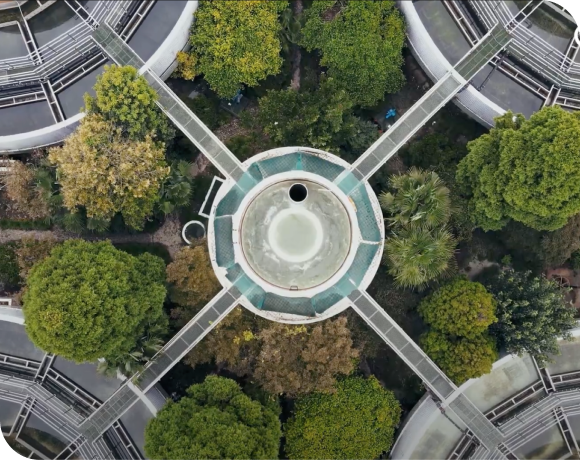 Building healthy and sustainable environments
Safe and Efficient
Future generations face a 40% shortfall between water supply and demand. Alongside other experts, Wavin is working to deliver safe and clean water security through enhanced rainwater reuse, the digitalization of water management and more secure and durable piping.
Sanitation and Hygiene
Outdated sewer systems are overwhelmed by a triple whammy of urbanization, population growth and climate change. We are working towards a healthier future with long-lasting sanitation solutions that deliver greater
capacity
, fewer leaks, less clogging and better monitoring.
Climate Resilient Cities
Smarter systems are needed to meet the five big challenges our cities face: floods, droughts, heat stress, ground water depletion and surface-water pollution. From roof to river, we are helping with connected water capture, attenuation, cleaning, reuse, and transportation solutions to make cities climate resilient.
Building Performance
Constrained by time, cost, and product sourcing challenges, many of today's buildings
fail to
deliver on their expected performance. Through improved digital modelling, we can help our partners predict time and resource needs throughout the building process and
provide
intelligent solutions for better urban living.